Products
Ground Fault Monitoring, Grounded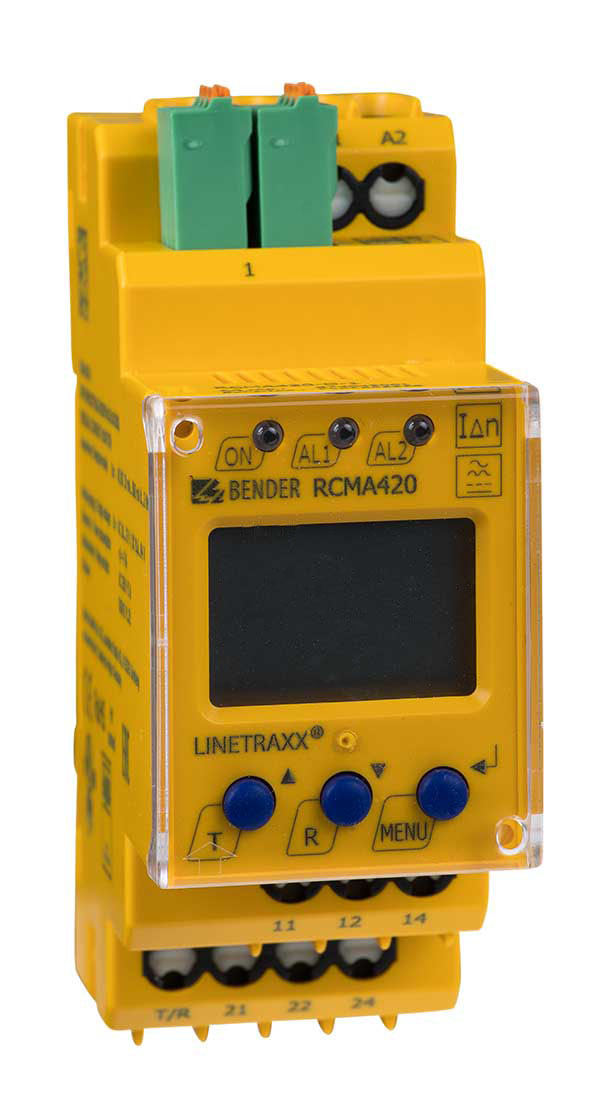 LINETRAXX® RCMA420
Ground-fault monitor for grounded and high-resistance grounded AC/DC systems
Modular installation using a single external current transformer
Works with AC/DC power conversion equipment including variable frequency drives
Digital display with real-time readings
Configurable Form-C (SPDT) relay contacts
The RCMA420 monitors for ground-fault current in solidly-grounded and high-resistance-grounded AC/DC (single-phase or three-phase) systems. The RCMA420 is also compatible with systems that contain power conversion equipment, such as variable frequency drives and inverters.
The pickup value is adjustable from 10 mA to 500 mA (for a higher pickup value, refer to RCMA423 series). A separately configurable pre-warning alarm is also available. Three separately adjustable time delays are included - a pickup delay, startup delay, and delay on reset.
The RCMA420 provides an accurate, RMS value. Measurements are displayed in real-time via the device's on-board digital display. All device are configured using the display and push buttons. Two Form-C (SPDT) relay outputs are separately configurable to trigger on pre-warning or main alarms.
A single current transformer connects to the RCMA420 for measuring ground-fault current. A wide range of sizes are available.
Features
Applications
Accessories
Ordering information
Downloads
Ground-fault monitoring for solidly-grounded and high-resistance-grounded AC/DC systems
Meets or exceeds code requirements for ground-fault detection on grounded AC/DC systems, where applicable
Works on systems with power conversion equipment, including variable frequency drives and inverters
RMS measurement values
Digital display showing measured ground-fault current in real-time
Adjustable pickup value from 10 to 500 mA
Connects to a single current transformer, available in a wide range of sizes
On-board test and reset buttons with connections for external activation
Adjustable time delays (pickup, startup, on reset)
Latching or non-latching operation
Two Form-C (SPDT) alarm outputs, operating normally energized (failsafe) or de-energized (non-failsafe)
Ground-fault monitoring on grounded and high-resistance grounded AC/DC systems
General power distribution
Motors and motor control centers
Generators, portable and fixed
Control systems
Heat trace systems, per NEC 427.22 and CEC 62-116
Battery backup systems
Grounded solar arrays, per NEC 690.41(B) (2017 edition), NEC 690.5 (2014 edition), and CEC 64-064(4)
Energy storage systems
Mandatory accessories for LINETRAXX® RCMA420
AC/DC current transformers
| | | | |
| --- | --- | --- | --- |
| W20AB | 0.78" (20mm) | circular, solid | B98060008 |
| W35AB | 1.35" (35mm) | circular, solid | B98080016 |
| W60AB | 2.4" (60mm) | circular, solid | B98080026 |
For systems requiring larger sizes, refer to RCMA423 ground-fault monitor.
Optional accessories for LINETRAXX® RCMA420
Connection cable for use with RCMA420/423 and WAB series current transformers
| | | |
| --- | --- | --- |
| WX-100 | 3' (1m) | B511100033 |
| WX-250 | 8' (2.5m) | B511100032 |
| WX-500 | 16' (5m) | B511100031 |
| WX-1000 | 32' (10m) | B511100034 |
Variants of LINETRAXX® RCMA420
| | | |
| --- | --- | --- |
| RCMA420-D-1 | 16-72 VAC (42-460 Hz), 9.6-94 VDC | B94043001 |
| RCMA420-D-2 | 70-300 VAC (42-460 Hz), 70-300 VDC | B94043002 |
Downloads for LINETRAXX® RCMA420
| | Category | Product | Language | Date | Size | Download |
| --- | --- | --- | --- | --- | --- | --- |