Products
Operator control panels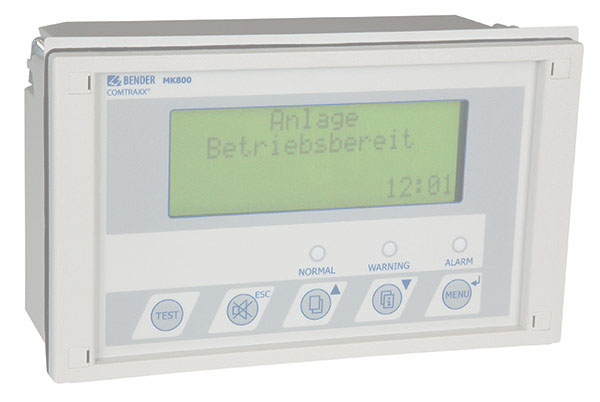 COMTRAXX® MK800


Alarm indicator and test combination according to IEC 60364-7-710; DIN VDE 0100-710: 2002-11
Visual and audible indication of operating status and alarm messages from EDS, RCMS and MEDICS Bender systems as well as from third-party systems
IT system monitoring equipment can be tested using the programmable test button
DI400 - Expansion module for Bender monitoring systems, which exchanges data via BMS bus
The COMTRAXX CP9xx Series is an ideal replacement product for the MK800. Learn more now.
MK800
Visual and acoustic signaling of operating status and alarm messages
Display of measured values and setting of limit values for monitoring purposes from BMS-capable Bender monitoring systems
DI400
Expansion module for Bender monitoring systems exchanging data via the BMS bus
Features
Applications
Accessories
Ordering information
Downloads
Display of operating, warning and alarm messages from Bender monitoring systems according to DIN VDE 0100-710: 2002-11, IEC 60364-7-710 and other standards
Plain text display with illuminated LC display (4 x 20 characters, 8 mm)
Indicator light with 3 LEDs to differentiate between normal status / warning and alarm messages
Acknowledgeable acoustic alarm
Pre-defined message texts for Bender monitoring systems EDS, RCMS and MEDICS in 21 national languages
1000 further freely programmable message texts
Programmable test button
Simple parameterization via menu (German / English) or PC program (USB interface or bus)
History memory with real-time clock for storing 1000 warning and alarm messages
Bus technology for easy installation and low fire load
16 digital inputs (option)
1 programmable relay (option)
Versions for flush-mounted and surface-mounted installation as well as door and cavity installation
Reflection-free, multicoloured film
Closed surface for a high standard of hygiene
Visual and acoustic signalling of alarm messages from Bender systems EDS, RCMS and MEDICS.
Meets the requirements of DIN VDE 0100-710 with regard to messages from switching devices and IT systems as well as test functions for IT system monitoring.
In the normal operating mode the MK800 shows the operational readiness of the system.
Display and visualisation of operating, warning and alarm messages
Central display of measured values
Operation and parameterization (setting of limit values for measured value monitoring) of BMS subscribers (EDS, RCMS)
The plain text display makes this information easy to understand.
The MK800-11 version contains 16 digital inputs with which messages from other trades can be recorded and displayed on the MK800, e.g. from medical gases or ZSV systems.
Optional accessories for COMTRAXX® MK800
| | | |
| --- | --- | --- |
| UP800 | Built-in housing for MK800 | B95100110 |
| BR800-1 | Cover frame silver for MK800 | B95100111 |
| BR800-2 | Cover frame white for MK800 | B95100112 |
| TMK-Set V4.xx | Software | as internet download |
| TMK History V3.xx | Software | as Internet Download |
| USB Driver Software for MK2430, MK800 and TM800 | Software | as Internet Download |
Variants of COMTRAXX® MK800
Type
Display
Digital inputs
Housing
Art. no.
MK800-11
LCD & 3 LED
16
B95100100
Built-in housing
B95100100
MK800-12
LCD & 3 LED
--
flush-mounted housing
B95100101
MK800A-11
LCD & 3 LED
16
Wall mounted
B95100102
MK800A-12
LCD & 3 LED
--
Surface mount
B95100103
MK800AF-11
LCD & 3 LED
16
Surface mount, front door
B95100104
MK800AF-12
LCD & 3 LED
--
Surface mount, front door
B95100105
MK800E-11
LCD & 3 LED
16
Built-in unit without housing
B95100106
MK800E-12
LCD & 3 LED
-----Built-in unit without housing
B95100107
DI400-11
3 LED
16
Wall mounted
B95100113
DI400-12
3 LED
--
Surface mount
B95100114
Downloads for COMTRAXX® MK800
| | Category | Product | Language | Size | Download |
| --- | --- | --- | --- | --- | --- |