Thu Jan 17 02:34:16 2019
Productos
Monitoreo de aislamiento
Thu Jan 17 02:34:16 2019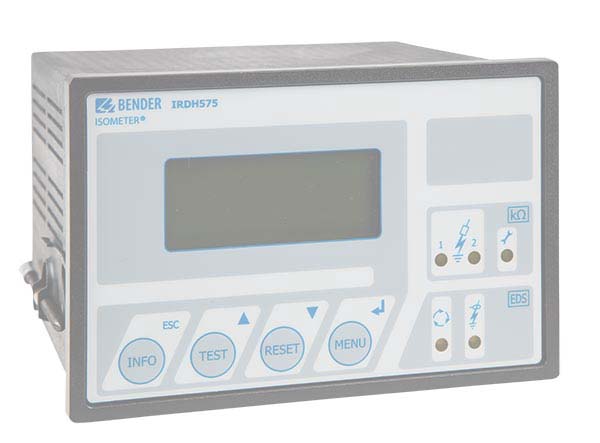 ISOMETER® IRDH575
Los ISOMETER® de la serie IRDH575 vigilan la resistencia de aislamiento de suministros de corriente aislados de tierra (Sistemas IT). Son de uso universal en sistemas 3(N)AC-, AC/DC- y DC. En los sistemas AC puede haber asimismo numerosas partes de la instalación alimentadas por corriente continua, p. ej. rectificadores de corriente, convertidores o accionamientos de corriente continua regulados por tiristores. El IRDH575 en combinación con los aparatos de evaluación de fallos de aislamiento de la serie EDS4.. y con los correspondientes transformadores de corriente de medida forman un dispositivo de búsqueda de fallos de aislamiento.
Características
Aplicaciones
Accesorios
Información de pedido
Descargas
Universal application in 3(N)AC, AC/DC and DC IT systems 20…575 V/340…760 V
Response range 1 kΩ…10 MΩ
Info button for the indication of various parameters and the system leakage capacitance
Comprehensive self-monitoring function including system fault alarm relay
Internal/external test and reset button
Two separate alarm relays, N/C or N/O operation selectable
Backlit plain text display 4 x 16 characters
RS-485 interface
Data memory, disconnection from supply and 0/4…20 mA current output
Can be extended to an insulation fault location system for max.1080 circuits
Adjustable locating current for insulation fault location
Appropriate for EDS4… insulation fault location systems
AMP measurement method
Insulation resistance monitoring in IT systems
Localisation of insulation faults with additional insulation fault locators EDS4…
Accesorios opcionales para ISOMETER® IRDH575
Protection against dust and moisture
| | | |
| --- | --- | --- |
| Panel sealing, degree of protection IP42 | 144 x 96 mm | B98060006 |
| Transparent cover, degree of protection IP65 | 144 x 96 mm | B98060007 |

Adaptor for rail mounting
| | |
| --- | --- |
| Adaptor for rail mounting | B98060010 |
The adaptor allows fast mounting of the IRDH575 on a DIN rail according to IEC 60715.

Measuring instruments
| | | | |
| --- | --- | --- | --- |
| 9620-1421 | 0…20 mA | 96 x 96 mm | B986841 |
| 9620S-1421 | 0…20 mA | 96 x 96 mm | B986842 |
Variantes de ISOMETER® IRDH575
| | | | |
| --- | --- | --- | --- |
| IRDH575B1-427 | AC / DC 20…575 V | DC 19.2…72 V | B91065502 |
| IRDH575B1-435 | 3(N)AC / DC 20…575 V* | AC 88…264 V / DC 77…286 V* | B91065500 |
| IRDH575B1-4227** | 3(N)AC / DC 20…150 V* | DC 19.2…72 V* | B91065505 |
| IRDH575B1-4235 | AC / DC 20…150 V | AC 88…264 V / DC 77…286 V | B91065504 |
| IRDH575B2-427 | 3(N)AC 340…760 V / DC 340…575V* | DC 19.2…72 V | B91065506 |
| IRDH575B2-435 | 3(N)AC 340…760 V / DC 340…575 V* | AC 88…264 V / DC 77…286 V* | B91065503 |
* Absolute values ** Measuring voltage Um 10 V
Descargas para ISOMETER® IRDH575
| | Categoría | Producto | Idioma | Fecha | Tamaño | Descarga |
| --- | --- | --- | --- | --- | --- | --- |