Thu Apr 25 04:56:36 2019
Productos
Monitoreo de aislamiento
Thu Apr 25 04:56:37 2019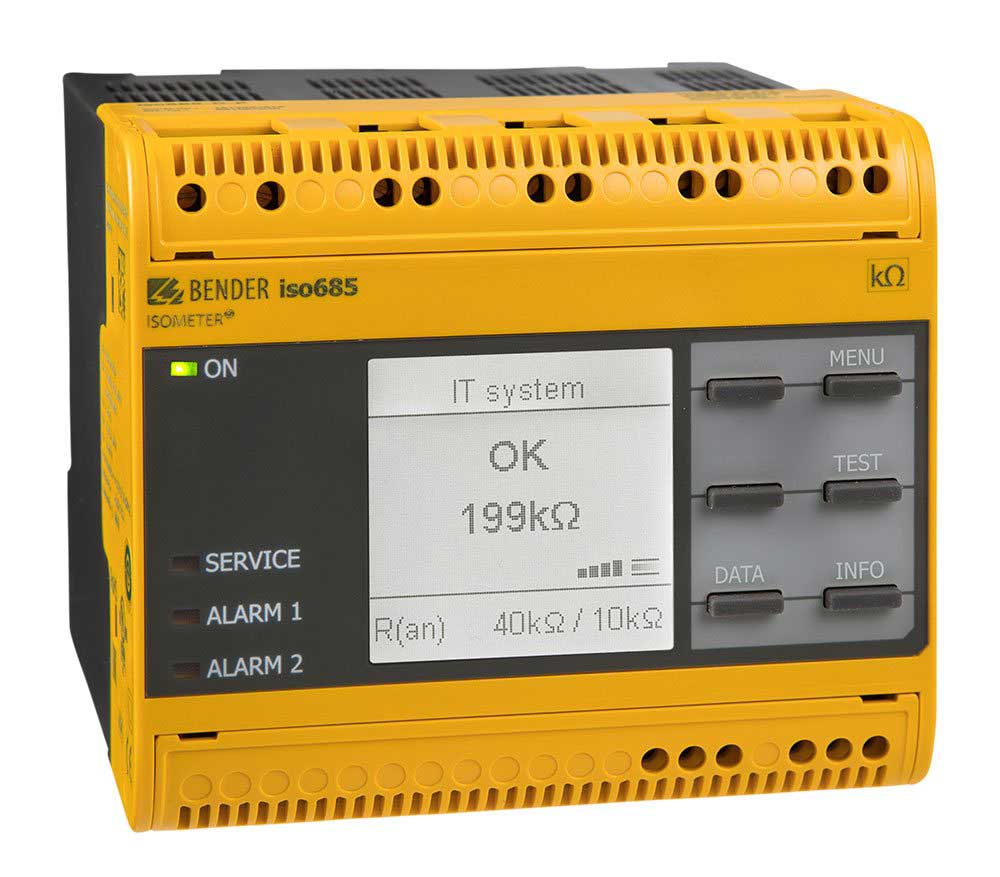 ISOMETER® iso685…
El ISOMETER® iso685 es un vigilante de aislamiento para sistemas IT según IEC 61557-8. Se puede aplicar de manera universal en sistemas CA, 3(N)CA, CA/CD y CD. Los sistemas de CA a vigilar pueden incluir componentes de CD (como rectificadores, inversores, variadores de velocidad).

Variantes de aparato
iso685-D
La versión iso685-D incorpora una pantalla gráfica LCD de alta resolución y elementos para
la configuración directa del equipo.
iso685-S
La versión iso685-S no incorpora pantalla ni unidad de mando. Sólo es posible utilizarla
junto con el FP200 yla configuración se debe realizar a través de éste.
Opción "W"
De manera opcional se dispone de las variantes en opción "W" para condiciones climáticas
y mecánicas extremas.
Características
Aplicaciones
Accesorios
Información de pedido
Descargas
ISOMETER® for IT AC systems with galvanically connected rectifiers or inverters and for IT DC systems (IT = unearthed systems).
Nominal system voltage Un expandable via coupling devices
Automatic adaptation to the existing system leakage capacitance.
Combination of AMPPlus and other profilespecific measurement methods.
Two separately adjustable response value ranges of 1 kΩ…10 MΩ for alarm 1 and alarm 2
High-resolution graphic LC display for excellent readability and recording of the device status.
Connection monitoring (monitoring of the measuring lines).
Automatic device self test.
Graphical representation of the insulation resistance over time (isoGraph)
History memory with real-time clock (buffer for three days) for storing 1023 alarm messages with date and time.
Current and voltage output 0(4)…20 mA, 0…400 μA, 0…10 V, 2…10 V (galvanically separated) which is analogous to the measured insulation value of the system.
Freely programmable digital inputs and outputs.
Remote setting via the Internet or Intranet (Webserver/Option: COMTRAXX® Gateway).
Worldwide remote diagnosis via Internet.
RS-485/BS (Bender sensor bus) for communication with other Bender devices
BCOM, Modbus TCP and web server
AC, DC or AC/DC main circuits
AC/DC main circuits with directly connected DC components, such as rectifiers, converters, variable-speed drives
UPS systems, battery systems
Heaters with phase control
Systems including switched-mode power supplies
IT systems with high leakage capacitances
Accesorios obligatorios para ISOMETER® iso685…
| | |
| --- | --- |
| A set of screw terminals* | B91067901 |
| A set of push-wire terminals | B91067902 |
| Enclosure accessories (terminal cover, 2 mounting clips)* | B91067903 |
| Transparent cover 144x72 (IP65) for FP200** | B98060005 |
* included in the scope of delivery
** If the "transparent front cover 144x72 (IP65)" is used, the cutout in the control cabinet must be increased in height from 66 mm to 68 mm (+ 0.7 / -0 mm).
Accesorios opcionales para ISOMETER® iso685…
Type designation
Type
Art. No.
Coupling devices
AGH150W-4
AGH204S-4
AGH520S
AGH676S-4
B98018006
B914013
B913033
B913055
Possible measuring instruments on request!
Variantes de ISOMETER® iso685…
Type
Nominal system voltage range Un
Supply voltage US
Display
Option W*
Art. No.
iso685-D
AC 0…690 V; 1…460 Hz /
DC 0…1000 V
AC 24…240 V; 50…400 Hz /
DC 24…240 V
integrated
–
B91067010
iso685W-D*
AC 0…690 V; 1…460 Hz /
DC 0…1000 V
AC 24…240 V; 50…400 Hz /
DC 24…240 V
integrated
-40…+70°C,
3K5, 3M7
B91067010W
iso685-S + FP200
AC 0…690 V; 1…460 Hz /
DC 0…1000 V
AC 24…240 V; 50…400 Hz /
DC 24…240 V
detached
–
B91067210
iso685W-S + FP200*
AC 0…690 V; 1…460 Hz /
DC 0…1000 V
AC 24…240 V; 50…400 Hz /
DC 24…240 V
detached
-40…+70°C,
3K5, 3M7
B91067210W
Descargas para ISOMETER® iso685…
| | Categoría | Producto | Idioma | Fecha | Tamaño | Descarga |
| --- | --- | --- | --- | --- | --- | --- |